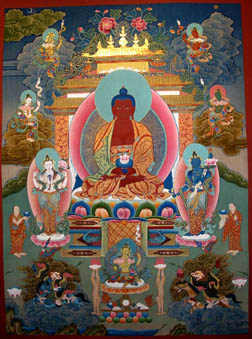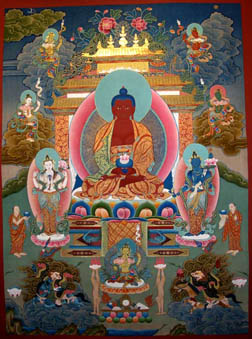 KAGYU DAKSHANG CHULING
917 East 43rd Avenue, Eugene, OR 97405
(Between West Amazon and Fox Hollow)
Saturday, May 23, 2015, 2:00 p.m.
Sunday, May 24, 2015, 9:00 a.m. – 4:00 p.m.
(Please arrive 15 minutes before the ceremonies; late arrivals will not be admitted.)
Amitabha Empowerment
Saturday, May 23, 2:00 p.m. (Arrive by 1:45 p.m.)
The Empowerment authorizes one for the meditation of Buddha Amitabha, "Infinite Light."
The Refuge Vow is required and will be offered prior to the Empowerment.
The cost is $25 general ($20 KDC members). It is also customary to make a donation to the empowering Lama.
Amitabha Teaching, Practice and Special Puja for the Deceased
Sunday, May 24, 9:00 a.m.–4:00 p.m. (Arrive by 8:45 a.m.)
The Amitabha sutra states that even to hear the name of Amitabha is cause to be reborn in the Pure Land of Dewachen. Amitabha practice carries a great blessing and is easy to accomplish. Venerable Lama Tsang Tsing has accomplished many long Amitabha retreats; this is an excellent opportunity to practice with him. The Empowerment is required.
The cost is $30 general ($25 KDC members) The Pecha (practice text) is $15.
You are welcome to bring a lunch and stay during the break.
For more information on the Special Puja for the Deceased, please click here. To print out a PDF flier of this event, please click here.
For information, please call (541) 485-3961 or (541) 683-1808 between 10:00 a.m. and 7:00 p.m.