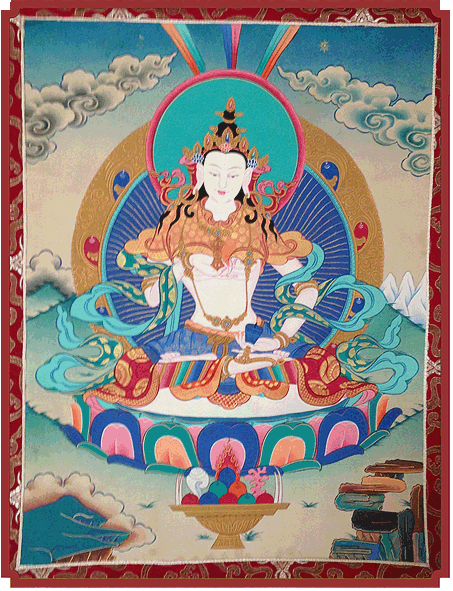 This beautiful traditional Dorje Sempa Thangka is being raffled to raise funds for the KDC Building Fund. Dorje Sempa is the essence of the 100 Peaceful and Wrathful Deities and is one of the principle deities of purification. The practice of Dorje Sempa is one of the Four Preliminaries (Ngondro) that is contained in all lineages of Tibetan Buddhism. It is considered to be a practice that is important to maintain throughout one's lifetime.
Having this Thangka in one's own home would serve both as an inspiration for one's daily Dharma practice and as an excellent reference for visualization of the deity.
This  24″ x 40″ Thangka was generously donated to KDC by Elizabeth Gerrity and is currently hanging in the KDC Shrine Room.
If you have been contemplating making a donation to KDC, then this is the perfect opportunity for you. By purchasing a raffle ticket, not only will you have a chance to win this beautiful thangka, you will acquire merit by helping KDC.  Raffle tickets are $20 each and may be purchased from Kathleen Epstein, KDC Building Fund, 33482 Bloomberg Road, Eugene, OR  97405, (541) 746-6459, khepsteinor@comcast.net or at KDC Dharma Center at the weekly Pujas.
The drawing for the Thangka will be held on the auspicious date of the New Moon, Sunday, October 30, 2016 after Chenrezig Puja. Ticket holders do not need to be present to win. If you live out of town, we can arrange to ship it to you, or hold it until your next visit to KDC.