by Venerable Lama Tsang Tsing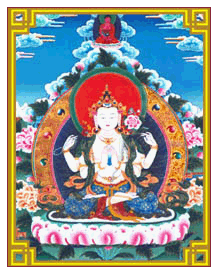 Sunday, September 17, 2017
10:00 a.m. to 4:00 p.m.
Session 1: 10:00 a.m. – 12:00 p.m. (arrival time 9:45 a.m.)
Session 2: 2:00 p.m. – 4:00 p.m. (arrival time 1:45 p.m.)
Freewill Donation
KAGYU DAKSHANG CHULING
917 East 43rd Avenue, Eugene, OR 97405
(Between West Amazon and Fox Hollow)
Chenrezig is the principal deity in Tibetan Vajrayana Buddhism, whose essence is love and compassion. By doing the practice of Chenrezig, one develops love and compassion for all sentient beings. On this day, Venerable Lama Tsang Tsing will give teachings on the practice and visualization of Chenrezig and lead us in Chenrezig Puja.
Anyone who is interested is welcome to attend; it is not necessary to have taken the Refuge Vow or to have received the Chenrezig Empowerment in order to attend this event. There will be two sessions, you are welcome to attend either or both of them. KDC only asks that you arrive approximately 15 minutes before the session begins and that you stay until the session ends—so the other meditators are not disturbed.
This will be an opportunity to practice with Venerable Lama Tsang Tsing and receive his blessings before he travels to India. This will also be an opportunity for the Sangha to practice together for the benefit of our Dharma sister Tsultrim (Ellie Hein) who passed away August 22.
We hope you can join us!

Please note: For the benefit of all participants, the KDC Shrine Room is a fragrance-free zone. Due to many people's allergies, please refrain from wearing scented products or wearing clothing that may have lingering scents of scented products on them.
Examples of scented products include, but are not limited to:
Perfume & oils
Cologne & after-shave
Hand & body lotion
Scented bath soaps & gels
Thank you for your cooperation.